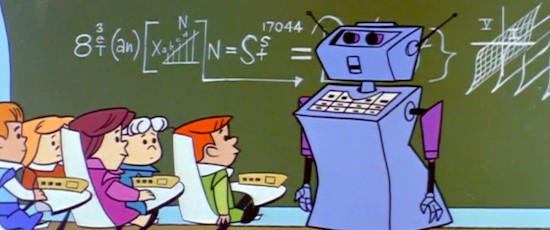 Remember The Jetsons? George Jetson had the coolest gadgets – a flying car that folded up into a brief case and a robot named Rosie that cooked, cleaned, organized and ran the house. At this year's Consumer Electronics Show in Las Vegas, a huge section of the exhibit space was dedicated to robots.
Hundreds of people crowded down several aisles to watch vendors demonstrate their robotic products. There are some amazing uses for robots; police departments use them to perform tasks that are too dangerous for human officers, like disarming bombs. Manufacturers use robots to perform repetitive tasks with consistent precision. There are even robots for everyday use, like the Roomba vacuum that allows you to come home from work to a clean house, well… at least a clean floor.
But even with all of the hype, the robots have not, for all practical purposes, evolved to the point where they can function independently without human intervention. The technology is close, but somewhere in all the lines of code and circuitry is the work of a human hand.  So you can rest assured, at least for another year, that we humans will not be replaced by robots.  PHEW!
MOOCs are education's robots. They are kind of cool. Everybody wants one. But the reality is that MOOCs, like robots, have not lived up to the hype. Although some people placed the burden of driving change in higher ed squarely on the virtual shoulders of the MOOC, like robots, MOOCs can't do it alone.
I would be willing to bet Rosie the Robot would not have to use a broom to dislodge the Roomba from my curtains.