College students have depended on coffee since the emergence of formal education although I am not sure which one came first. Regardless, you can bet they have been symbiotic partners for decades. This week Starbucks announced a partnership with Arizona State University to allow employees to enroll in online bachelor degree programs.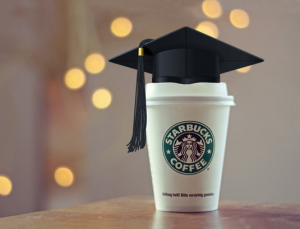 This is big for several reasons. One-Starbucks is not limiting tuition reimbursement to classes that are directly applicable to their career as a barista. Two-there is a no repayment provision if the employee leaves Starbucks. For this program, freshman and sophomores will get partial tuition scholarships combined with need-based financial aid from Arizona State. During their junior and senior years, Starbucks will pick up the tab for their entire tuition.
As an educational futurist, I have predicted for a while now that we will start to see more of a melding between corporate training and formal education. The for-profit institutions have been doing this for years and, like most innovations in higher education, the not-for profits and state-funded colleges are slow to join. This is a big step forward for the new education model that relies less on eighteen year olds physically attending a campus but more on the non-traditional students. Yet, most not-for-profit and state funded institutions continue to focus their efforts on competing for the limited traditional student market. They are building new dorms, new football fields, and new cafeterias and investing almost nothing in technology-driven education.
While I don't see personally the appeal of Starbucks' coffee, I do applaud this bold move. So, I raise my Tall Blonde, with extra whip and a double shot of espresso to you Starbucks.
Bonus points to Starbucks for letting me order a tall blonde with no judgment! Tell me what you think of this bold move by Starbucks below.
Find out more about this program at the Starbucks website.